Professional or Adult Learners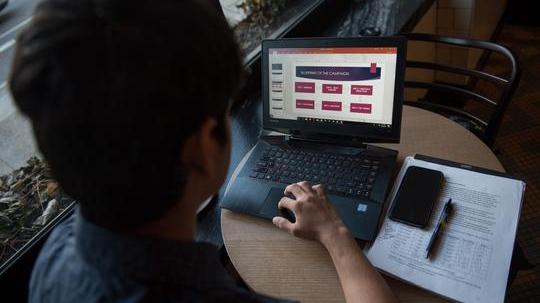 What type of courses may I take for Professional Development?
How do I Enroll?
How much is the Tuition?
What does it mean if a course says Full, Wait List, Enrollment Closed, or Request Information?
How do I drop a course or know if I am eligible for a refund?
What is the difference between a CEU and a Credit Hour?
Does federal financial aid apply towards a Non-Credit course or certificate?
Will courses appear on a Transcript?
We offer a variety of courses for professional development or personal enrichment. Most professionals enrolling in courses through the Professional Studies department enroll in non-credit courses or certificates for skill building. These programs are open enrollment, no application required, and meet either online or during the evenings to accommodate busy schedules. During the summer semester, adults may also enroll as a visiting non-degree student in a variety of undergraduate or graduate level courses offering academic credit. For students interested in a full credential, explore Emerson's variety of Bachelor's Degrees and Graduate programs.
Browse for courses by Non-Credit, Undergraduate credit, Graduate credit, Areas of Study, or use our Advanced Course Search tool to find the right course for you. Each course page includes the course description, number of credits (academic units), price, schedule, and delivery format. Once you are ready to enroll, add the course to your shopping cart and follow the prompts to complete the checkout and payment process.
During the checkout process, you will be asked to create a temporary account. After your registration is complete, within a few hours, you will receive an email from Emerson's IT Help Desk entitled "Emerson College - Activate your account" which will invite you to set up your permanent student account and password to access the College's online services. From this point forward, you will use your new official Emerson credentials to log in to this website as well as all Emerson services you may access as an enrolled student. To learn more, please review our Information for Enrolled Students page.
Tuition for non-credit courses is a flat fee amount per course listed on each course page. Prices vary by program. All credit-bearing (undergraduate or graduate) courses charge tuition based on an hourly tuition rate calculated by the number of academic units (credit hours) assigned to a course. The majority of Emerson courses offer 4 credit hours. Each course on our website will indicate the specific number of credits and the calculated tuition rate so you will know upfront how much your course will cost. Tuition rates are determined on an annual basis for the College. Payment is due at the time of enrollment and may be paid online during the checkout process.
Full - Each course has a maximum number of seats for purchase in order to ensure educational quality with a low faculty to student ratio. Please note: we cannot over-enroll a course beyond its maximum capacity. Full indicates all seats in the course have been purchased and no wait list is available.
Wait List - If an enrolled student decides to drop their course, a seat may suddenly become available. If the Join Wait List button appears on the course page, you may sign up to receive an automatic email alert to notify you if a seat becomes available. Upon receipt of the availability notification, the seat will be reserved for you for 48 hours, and the email will contain instructions for you to complete your purchase. If you do not enroll within the 48 hour window, the seat will be offered to the next person on the wait list. Wait lists are first come first served.
Enrollment Closed - The deadline for registration has passed and new registrations are no longer accepted.
Request Information - If a course is not currently available for enrollment, use the Request Information button on the course page to receive an automatic email notification once a new section of the course is available for registration.
If you need to drop a course, submit your request via the Student Portal. For instructions and more information on eligibility, please review our Registration Policies page for refunds, withdrawals, and course drops.
Non-Credit courses offer what is called a CEU (Continuing Education Unit). CEUs are an industry standardized measurement for professional and continuing education programming. One CEU is equal to 10 hours of class time. For example, a 45 hour course offers 4.5 CEUs. CEUs are not applicable towards a degree program, but may be used to show an employer you have completed coursework in a specific topic to enhance your skills and knowledge.
Credit-bearing courses offer college Credits, also known as Academic Units (AU). Credits are generally applicable towards degree programs. If you are planning to enroll in a credit-bearing course and wish to transfer those credits back to a different institution, be sure to first verify with your home institution if the course credits are approved for transfer. Emerson College is accredited by the New England Commission of Higher Education.
No. Non-credit courses and certificates are not eligible to receive federal financial aid. Only credit-bearing programs such as a degree or credit-granting certificate may be eligible for aid. More details may be found on the U.S. government's Federal Student Aid website.
Yes. All non-credit and all credit-bearing courses taken through Emerson's Professional Studies department will appear on an official Emerson transcript available through the Registrar's Office or on an unofficial transcript viewable through your Professional Studies Student Portal. Once you have enrolled in courses, you will have access to your Student Portal account to view your course history, grades, payments, and much more.
Required fields are indicated by .