Visiting Undergraduate and Graduate Students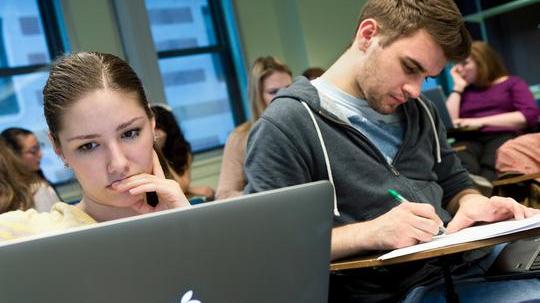 What is a Visiting or Non-Degree Student?
Students from other institutions may enroll in undergraduate or graduate level classes at Emerson College as a Visiting (also known as Non-Degree) student during the Summer Term. Credits earned may be eligible for transfer to a student's home institution to earn credits towards their degree. Prior to enrollment, please check with your home institution to ensure the course you wish to take at Emerson will be applicable and transferable to your degree program.
Students may also be professionals seeking knowledge and new skills to apply towards their professional careers. Taking a credit-bearing course is also a way to explore a topic before applying to one of Emerson's undergraduate or graduate degree programs.
When are courses offered?
Non-degree / visiting students seeking academic credit courses may enroll in our Summer Term. Enrollment opens in mid to late March, and classes begin in May (Summer Session 1) and late June or early July (Summer Session 2). Professional Studies cannot enroll students in credit-bearing courses during the spring or fall semesters as courses are restricted to current Emerson degree students.
The only exception is made for alums who completed Emerson's theatre education coursework and are thus eligible to enroll in Student Teaching Seminar and Practicum courses which may be taken any semester as offered by the department.
Who is Eligible?
To enroll in a credit-bearing course, students must possess the appropriate credentials based on the level of the course. Students enrolling in Undergraduate courses (courses numbered 100-499) must be an adult age 18 or older and possess a high school diploma or G.E.D.. Students enrolling in Graduate courses (courses numbered 600-699) must be an adult age 18 or older and must possess a Bachelor's Degree. Individual courses may also indicate specific requirements, permissions, or prerequisites necessary for enrollment. Prerequisites will be indicated on the course page along with the course description and schedule.
How do I Enroll?
Browse for courses by Undergraduate credit, Graduate credit, Areas of Study, or use our Advanced Course Search tool to find the right course for you. Each course page will indicate the course description, number of credits (academic units) offered, price, schedule, and delivery format. Once you find courses in which you wish to enroll, simply add the course to your shopping cart and follow the prompts to complete the checkout and payment process.
During the checkout process, you will be asked to create a temporary account. After your registration is complete, within a few hours, you will then receive an email from Emerson's IT Help Desk entitled "Emerson College - Activate your account" which will enable you to set up your permanent student account and password to access the College's online services. From this point forward, you will use your new official Emerson credentials to log in to this website as well as all Emerson services you may access as an enrolled student. To learn more, please review our Information for Enrolled Students page.
What are the Tuition costs?
All credit-bearing courses charge tuition based on an hourly tuition rate calculated by the number of academic units (credit hours) assigned to a course. The majority of Emerson courses offer 4 credit hours, but each course on our website will indicate the specific number of credits and the calculated tuition rate so you will know upfront how much your course will cost. Tuition rates are determined on an annual basis for the College. Payment is due at the time of enrollment and may be paid online during the checkout process.
What does it mean if a course says Full, Enrollment Closed, or Request Information?
Each course has a maximum number of seats for purchase in order to ensure educational quality with a low faculty to student ratio. If you find that a course is full (sold out), click the Request Information button on the course page to receive an automatic email notification if any additional seats become available or if a new section of the course becomes available for enrollment. Please note: we cannot over-enroll a course beyond its maximum capacity. Occasionally, student plans change and it is possible if an enrolled student decides to drop their course, a seat may suddenly become available. Signing up for the Request Information email alert is the best way to ensure you are notified if a seat becomes available for purchase. If a course indicates Enrollment Closed, this means the deadline for registration has passed and new registrations are no longer accepted.
Will courses appear on a Transcript?
Yes, all credit-bearing courses taken through Emerson's Professional Studies department will appear on an official Emerson transcript available through the Registrar's Office or on an unofficial transcript viewable through your Professional Studies Student Portal. Once you have enrolled in courses, you will have access to your Student Portal account to view your course history, grades, payments, and much more.
International Students
At the present time, Emerson College is not authorized to issue I-20s for study in its Professional Studies and Special Programs ("PSSP") courses. Depending on an international student's immigration status and personal circumstances, enrollment in a PSSP course may be permissible or may result in an immigration status violation. Maintaining valid immigration status while in the United States is the responsibility of the individual, not Emerson College. PSSP staff cannot advise individuals about their immigration status. If you have any questions about the requirements for maintenance of your specific immigration status, please contact the U.S. Consulate in your home country prior to enrolling in a PSSP program.
Required fields are indicated by .