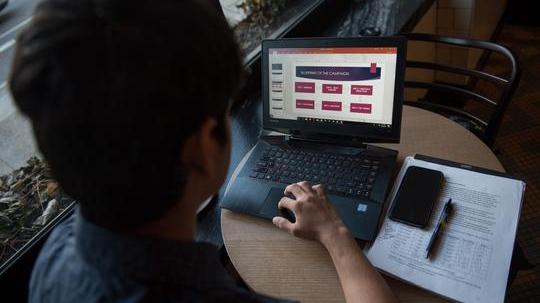 Marketing has changed more in the past few years than it has in the decade before — and there's no sign of it slowing down. Now more than ever, businesses need versatile digital marketers who can capture consumers on the channels where they're increasingly spending their time.
The Digital Marketing Boot Camp is a challenging, part-time program that prepares you to keep pace with this rapidly changing field. You'll learn from a market-driven curriculum that's continually updated to ensure that you have the analytical and creative skills needed to succeed.
Throughout the 18-week program, you will take a hands-on approach to learning digital advertising, web design, campaign analysis, content marketing, and more. You'll complete the program with experience using a host of industry tools such as Google Ads, Google Analytics, Facebook Ads Manager, and WordPress.
Featuring:
Learn how to create and execute a successful marketing strategy, including campaign development, user acquisition, digital advertising, content marketing, retention strategy, SEO, content optimization, and more.*
Gain real-world experience using popular tools and technologies such as Google Ads, Google Analytics, Facebook Ads Manager, and WordPress.*
Study part-time, three days a week, through our dynamic virtual classroom experience while maintaining your work schedule.
Benefit from a wide range of career services to position you for success as you work to advance in your current career or seek a new opportunity.
Prerequisites:
No programming or marketing experience is required.
Application Instructions:
Visit Emerson College Digital Marketing Boot Camp to learn more and speak with an Admissions Advisor